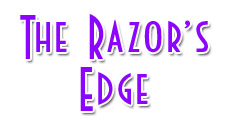 Our Shower and a Shave series will always show pussy shaving, but it's done rather quickly, so when
we really want to spend some quality time on pussy shaving, that's were the Razor's Edge series
comes into play. Our Favorite Flavors take their time shaving the most intimate and erotic part of
their bodies as our cameras capture it all.

All of the following content is available now in our Members Area - JOIN TODAY!
The Razor's Edge Videos
The Razor's Edge Picture Sets