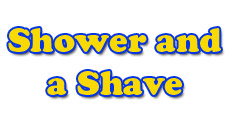 A Shower and a Shave may be a mundane task for a woman, but we find it to be sexy as hell!
Seeing a woman lather up her breasts with soap, shave her legs and pussy... it's just tremendous!
Don't get busted trying to peek in on strangers! Play it safe and peek in on our Favorite Flavors
while they shave and shower in our Shower and a Shave series.
All of the following content is available now in our Members Area -
JOIN TODAY!
Shower and a Shave Videos
Shower and a Shave Picture Sets